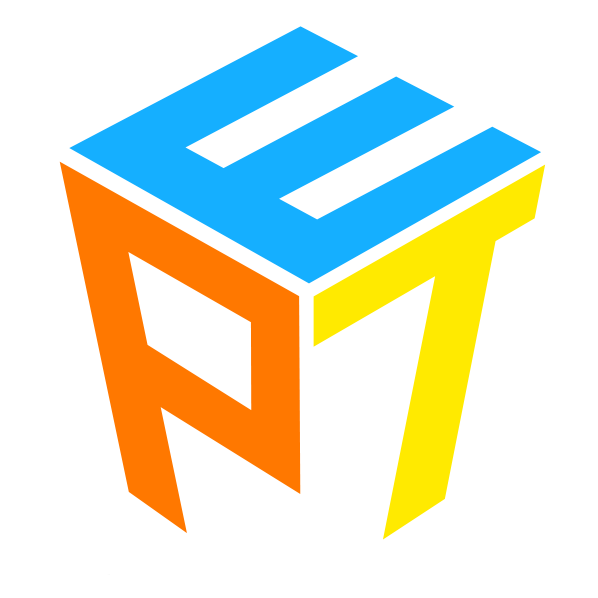 Speak English, make friends
Share your experience...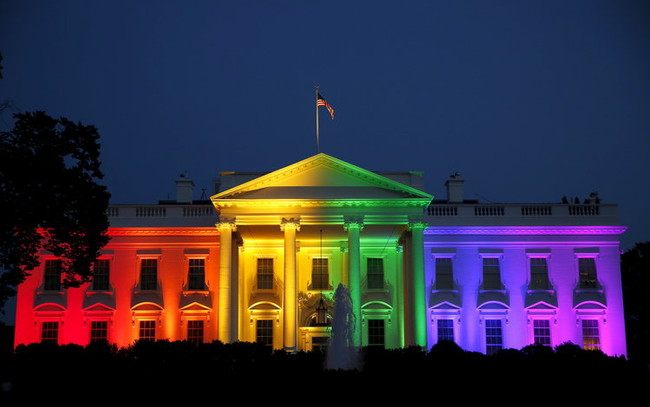 8 facts about love and marriage in America |
关于美国爱情和婚姻的8个真相
ABIGAIL GEIGER, GRETCHEN LIVINGSTON
-- Pew Research Center(皮尤研究中心)
Love tops the list of Americans' reasons to marry. About nine-in-ten Americans (88%) cited love as a very important reason to get married, ahead of making a lifelong commitment (81%) and companionship (76%), according to a 2013 Pew Research Center survey. Fewer said having their relationship recognized in a religious ceremony (30%), financial stability (28%) or legal rights and benefits (23%) were very important reasons to marry.
爱是美国人选择婚姻的首要理由。根据皮尤研究中心2013年的统计显示,10个美国人中就有9个(88%)认为爱情是人们需要结婚的首要理由,高于认为"终生承诺"(81%)或陪伴(76%)是缔结婚姻主要理由的人群占比。少数人认为关系能够通过宗教仪式得到认可(30%)、经济上的稳定(28%)或法律保障以及获得相关优先利益(23%)是选择结婚的重要理由。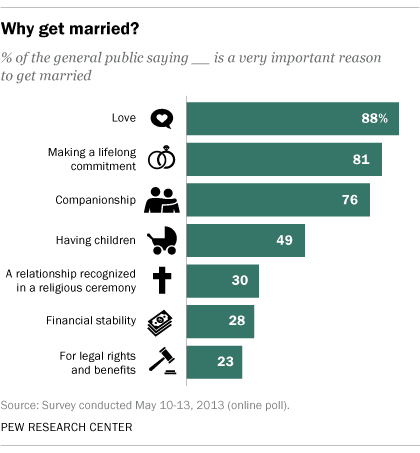 However, being a good financial provider was seen as particularly important for men to be a good husband or partner, according to a 2017 survey by the Center. About seven-in-ten adults (71%) said it was very important for a man to be able to support a family financially to be a good husband or partner, while just 32% said the same for a woman to be a good wife or partner.
然而不管怎样,根据2017年该中心的调查发现能否为另一半,提供一个较好的经济条件,仍然是判断男性是否为一个好丈夫或伴侣的重要标准。7/10(71%)的人认为要想成为一个好丈夫就要有能力为家庭提供良好的经济支持。而仅有32%的人认为女性也应该以这种标准去判断。
As far as what helps people stay married, married adults said in a 2015 survey that having shared interests (64%) and a satisfying sexual relationship (61%) were very important to a successful marriage. More than half (56%) also named sharing household chores.
与此同时,在2015年的调查中发现,已婚成年人认为具有共同的爱好(64%)或和谐的性生活(61%)对维系良好的婚姻关系至关重要。超过半数(56%)的人认为能否分享家务也是影响婚姻关系的重要因素。
Half of Americans ages 18 and older were married in 2016, a share that has remained relatively stable in recent years but is down 9 percentage points over the past quarter-century. One factor driving this change is that Americans – particularly men – are staying single longer. According to the U.S. Census Bureau, in 2017, the median age at first marriage had reached its highest point on record: 29.5 years for men and 27.4 years for women.
美国半数18岁以上的人结过婚。此项数据近些年来较为稳定,但在过去的1/4个世纪下降了9个百分点。导致这种转变的一个重要因素是美国人(特别是男性)单身时间越来越长。根据美国人口普查局2017年的统计,美国首婚的中位数达到了历史最高点:男性29.5岁,女性27.4岁。
Marriage declined most among those with a high school diploma or less education. In 1990, 63% of this group were married; by 2015, that had dropped to 50%. In contrast, 65% of those ages 25 and older with at least a four-year college degree were married in 2015.
结婚率的下降在教育程度高中及以下的人群中最为明显。在1990年这个群体中结婚率为63%,到2015年同样的指数下降到了50%。相反,在教育程度为大学本科及以上的人群中,2015年的结婚率仍然为65%。
As the U.S. marriage rate has declined, divorce rates have increased among older Americans. In 2015, for every 1,000 married adults ages 50 and older, 10 had divorced – up from five in 1990. Among those ages 65 and older, the divorce rate roughly tripled since 1990.
随着美国整体结婚率的降低,年长人群中的离婚率也在不断攀升。在2015年每1000名50岁及以上的已婚成年人中,就有10个人离婚,而在1990年仅为5人。
The number of U.S. adults cohabiting with a partner is on the rise. In addition to the half of U.S. adults who are married, 7% were cohabiting in 2016. The number of Americans living with an unmarried partner reached about 18 million in 2016, up 29% since 2007. Roughly half of cohabiters are younger than 35 – but cohabitation is rising most quickly among Americans ages 50 and older.
成年人与伴侣同居的人数不断上升。在2016年美国除了一半已经结婚的成年人之外,还有7%左右的成年人处于同居状态。2016年,美国成年人与非婚伴侣同居的人数达到1千8百万,较2007年的数据上升了29%。粗略统计半数同居者为35岁以下的年轻人,但50岁及以上的长者同居群体数量增幅最为明显。
Remarriage is on the rise. In 2013, 23% of married people had been married before, compared with just 13% in 1960. Four-in-ten new marriages in 2013 included a spouse who had said "I do" (at least) once before, and in 20% of new marriages both spouses had been married at least once before.
再婚率持续提高。2013年结婚群体中有23%为再婚,而在1960年这一数据仅为13%。2013年缔结的婚姻中,有4成是至少一方在之前讲过"I Do"的,20%的新婚夫妇是双方均为再婚的。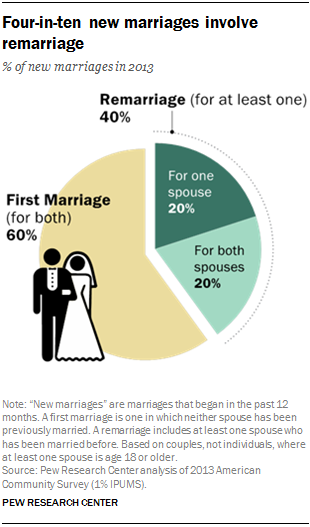 Remarriage is more common among men than women. Among previously married men (those who were ever divorced or widowed), 64% took a second walk down the aisle, compared with 52% of previously married women, according to a Pew Research Center analysis of 2013 Census Bureau data. One possible reason for this disparity is that women are less interested than men in remarrying. Among previously married women, 54% said in a 2014 Pew Research Center survey that they did not want to marry again, compared with 30% of men.
男性再婚比女性更为常见。根据皮尤中心对美国人口普查局数据(2013年)研究显示,在有婚史的男性当中(结过婚或丧偶),64%的人选择了再婚,而同类女性仅有52%选择了再婚。造成这种不平衡的一个可能是,结过婚的女性往往与男性不同,并未对再婚展现出太多的兴趣。在2014年皮尤中心的调查中发现,54%的有婚史女性表示不想再婚,而有婚史的男性当中仅有30%表示不想再婚。
One-in-six newlyweds (17%) were married to someone of a different race or ethnicity in 2015. This reflects a steady increase in intermarriage since 1967, when just 3% of newlyweds were intermarried, according to a 2017 Pew Research Center analysis.
2015年,17%的新婚为跨种族婚姻。根据皮尤中心2017年的分析发现,从1967年的3%开始,跨种族或跨国婚姻的比例一直稳步上升。
While Asian (29%) and Hispanic (27%) newlyweds are most likely to intermarry in the U.S., the most dramatic increases in intermarriage have occurred among black newlyweds, 18% of whom married someone of a different race or ethnicity, up from 5% in 1980. About one-in-ten white newlyweds (11%) are married to someone of a different race or ethnicity.
与美国人通婚(新婚)的群体中,亚裔(29%)和拉美裔(27%)群体比重最大。新婚夫妇中,最具戏剧性的增长是与黑人群体的通婚,这一数字从1980年的5%增长到了18%。总体上来看,大约有一成的新婚美国人选择了跨种族的通婚。
Intermarriage is more common in certain metropolitan areas, as well as in urban rather than rural areas. For example, 42% of newlyweds in Honolulu were intermarried – by far the largest share of the 126 metropolitan areas analyzed. By contrast, about 3% of newlyweds in Jackson, Mississippi, and Asheville, North Carolina, married someone of a different race or ethnicity.
较之乡村,跨族裔婚姻在特定的大都市和城市区域更为常见。例如,在已经调查的126个大城市中,檀香山的跨族裔婚姻比例高达42%。而相反,在密西西比州杰克逊和北卡罗来纳州阿什维尔仅有3%的新婚夫妇选择了跨种族的伴侣。
Public support for same-sex marriage has grown in the past 10 years. In 2007, Americans opposed legalizing same-sex marriage by a margin of 54% to 37%. In 2017, more favored (62%) than opposed (32%) allowing gays and lesbians to marry legally.
在过去的10年中,公开支持同性婚姻的群体大幅提升。在2007年有关同性恋婚姻立法的反对者和支持者分别为54%和37%。而到2017年,公开支持的比例达到了62%,反对者降低至32%。
Surveys conducted by Gallup found that about one-in-ten LGBT Americans (10%) were married to a same-sex spouse in 2017. Now, a majority (61%) of all same-sex couples who live together are married.
根据盖洛普的调查发现,2017年1/10的LGBT群体选择了同性婚姻,而现在大多数(61%)同性伴侣已办理婚姻手续。
Sizable minorities of married people are members of a different religious group than their significant other or identify with a different political party. About four-in-ten Americans (39%) who have married since 2010 have a spouse who is in a different religious group, compared with only 19% of those who wed before 1960, according to a 2014 Pew Research Center survey. Many of these interfaith marriages are between Christians and those who are religiously unaffiliated.
相当数量的跨信仰婚姻,而跨党派的婚姻却不那么常见。根据皮尤中心2014的调查显示,从2010年起算有近四成(39%)的美国人选择了跨信仰的婚姻,而这一数字在1960年之前仅为19%。大部分的跨信仰婚姻是发生在基督教徒与无明确信仰的群体之间。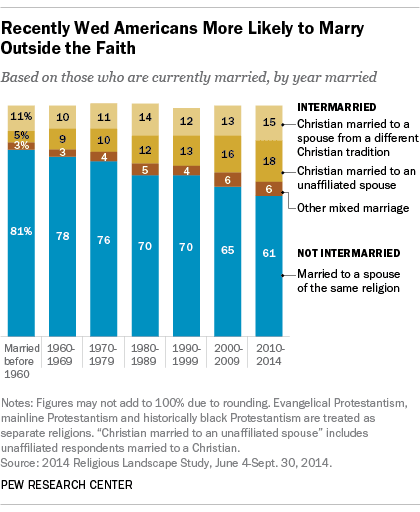 Meanwhile, marriages and partnerships across political party lines are relatively rare in the U.S. Large majorities of members of both political parties say their spouse or partner belongs to the same party. In 2016, 77% of both Republicans and Democrats who were married or living with a partner said their spouse or partner was in the same party.
与此同时,跨党派倾向的婚姻或伴侣关系却不常见。绝大多数两党成员表示其伴侣均为相同党派。在2016年的调查发现,77%的共和党及民主党的已婚党员均是与同党派人员结合。
Americans are increasingly looking for love online. A total of 15% of American adults have used online dating sites and/or mobile dating apps, according to a 2015 Pew Research Center survey, up from 11% who reported doing so in 2013. Roughly four-in-ten Americans (41%) know someone who uses online dating, and 29% know someone who has entered a long-term relationship via online dating.
通过网路寻找爱情的群体持续增加。根据2015年皮尤中心的调查数据,15%的美国人使用过约会网站或在线约会软件,而这一数据在2013年仅为11%。大概有四成(41%)美国人知道身边有人在使用线上软件进行约会,29%的人知道身边有人已经通过线上约会的方式进入到了一段稳定的恋爱关系。
The growth in online dating can be seen particularly among young adults. The share of 18- to 24-year-olds who use online dating has almost tripled in recent years, from 10% in 2013 to 27% in 2015. Mobile dating apps are partly responsible of this increase: 22% of 18- to 24-year-olds now report using mobile dating apps, up from just 5% in 2013.
线上约会方式的广泛应用在青年人群体中更为明显。18岁至24岁群体中使用线上方式进行约会的群体比例从2013年(10%)至2015年(27%)翻了近三倍。造成上述数据的一个重要原因是手机约会软件的应用高速增长,在18岁至24岁群体中该类软件的使用率从2013年的5%增长到了22%。
For the most part, people today view online dating positively. About six-in-ten (59%) say it is a good way to meet people, and 47% agree that it is easier and more efficient than other ways of meeting people.
大多数情况下,人们对在线约会方式持较为积极的态度。近六成(59%)的人表示,这是一种较好的认识新朋友的方法,同时,47%的人同意线上方式交友比其他方式更为便捷及有效。
PhD in comparative law. M.A in Civil Law. B.A in Law. For many years, he has been specialized in Family theory, LGBT, Alternative Reproductive Ethics. Be good at analyzing social hotspot cases involving the field of violation of Spousal Fiduciary Duties and divorce property division.
PostEnglishTime
, Speak English and Make Friends
PostEnglishTime is a high-quality network of English-speaking Chinese professionals in Beijing. We organize various social activities and provide various community services. Our mission is to build a high-quality network of locals and foreigners who are seriously interested in engaging with culture exchange, learning different societies and humanities.
PET创立于2011年,是一个集语言学习,社交与知识分享的英文爱好者社区。我们致力于成为国内外朋友都信赖的高质量社区,并为广大外语爱好者提供线上线下不同类型的语言交流活动与不同主题的分享与社交活动,及其他社区服务。在这里有趣的灵魂将自由连接,平凡的生命也一样精彩。