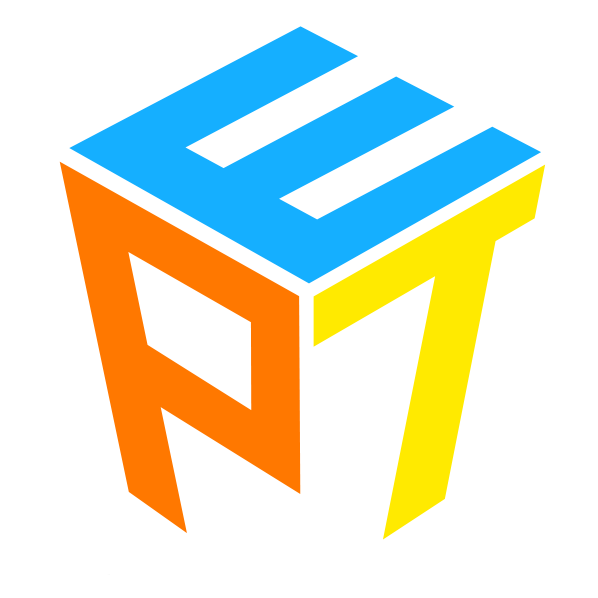 Speak English, make friends
Share your experience...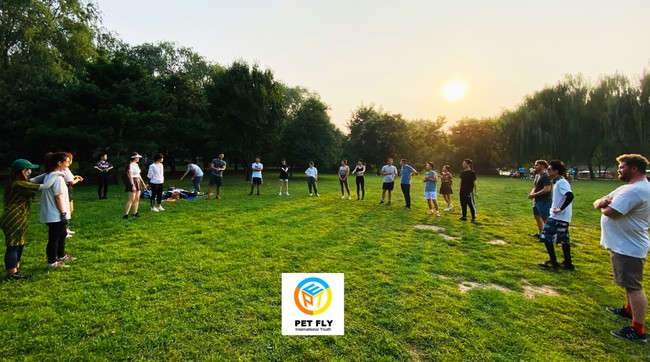 【Frisbee&English】#1 What's Ultimate, Rules and Terminology |
玩飞盘&学英语#1 极限飞盘新手必读
曾几何时,极限飞盘运动忽然大火了起来,PET作为北京较早开始组织飞盘运动的社区,从2015年8月就在朝阳公园方舟码头的草坪上开始组织飞盘运动,到现在已经有7年了,已经有了一批忠实的飞盘玩家,顺应这个趋势,我们在2021年8月份正式成立了自己的飞盘战队PET Fly,以后我们会定期参加各种飞盘比赛,一起体验极限飞盘为我们带来的团队竞技乐趣。
极限飞盘运动源于美国,属于上手容易,但玩好难的团队游戏;我们作为一群英文爱好者,计划开始一个"玩飞盘,学英文"的系列专题,主要是把国外原汁原味的飞盘理念,玩法,各种战术分享给飞盘爱好者们,让我们一起学习,共同提高吧。首选我们从一些基础知识开始。
It's an exciting, non-contact team sport played by thousands all over the world in Open, Mixed and Women's teams. Ultimate is a fast-paced game, demanding its players to develop razor sharp throwing skills and immense stamina and agility. It is recognized by the IWGA, all of the UK Sports Councils and the Australian Sports Commission, to just name a few. Ultimate is the only IOC recognized sport to be self-officiating and promote Spirit Of The Game (SOTG); this means players know the game and rules inside out and understand the meaning of fair play.
Ultimate is an intense sport but it's also very newcomer friendly. The 'Ultimate community' is something people often refer to and you can easily understand why, as the opportunity for beginners to get involved and get competitive at a fun level are widespread in lots of countries. You can hear many Ultimate players refer to their teams as their family, and in some teams you spend almost as much time together as if they were. The rules you need to know in order to start are easy to pick up and most teams cultivate a 'grown from home' attitude, meaning they're willing to absorb you into the team and let team members teach you as you play.
The game, explained as simply as possible Ultimate is played between two teams of seven players on a large rectangular pitch. A line drawn across the pitch at either end creates two "endzones" (like in American Football). These are the goal-scoring areas. A goal is scored when a team completes a pass to a player standing (or more likely running) in the endzone they are attacking.
Players cannot run with the disc. When you get the disc you must come to a stop and try to throw it to another player (a bit like netball). By passing from player to player, the offence attempts to work the disc up the pitch towards the endzone they are attacking. If the disc hits the ground or is intercepted or knocked down by the other team, then the opposition takes possession (a change of possession is called a "turnover", like American Football). Possession also changes if a receiver is outside the playing area when he or she catches it.
The defending team attempts to stop the team with the disc from making progress upfield by marking them (as in soccer or basketball). The theory is that the offence won't want to pass to a player who is being marked closely, as it's likely to result in an interception. So it boils down to the offence players trying to get free of their markers to receive a pass, while the defence makes every effort to stay with them in the hope of forcing a turnover.
At the end of every match, the two teams congregate to discuss the overall of Spirit of that game, and score each other based on:
> Rules Knowledge and Use > Fouls and Body Contact > Positive Attitude and Self Control > Fair-mindedness > Communication
Ultimate in 10 simple rules
A rectangular shape with endzones at each end. A regulation field is 64m by 37m, with endzones 18m deep.
矩形形状,中场是 64m x 37m,两端都18m深的得分区。
Each point begins with both teams lining up on the front of their respective endzone line. The defense throws ("pulls") the disc to the offense. A regulation game has seven players per team.
比赛从两支战队在各自排成一排站在得分区的前边线开始。防守方向进攻方扔飞盘。常规比赛每队有七名球员。
Each time the offense completes a pass in the defense's endzone, the offense scores a point. Play is initiated after each score.
进攻方在防守方得分区完成接盘,进攻方得一分。每次得分后,再换边重置一次比赛。
The disc may be advanced in any direction by completing a pass to a teammate. Players may not run with the disc. The person with the disc ("thrower") has ten seconds to throw the disc. The defender guarding the thrower ("marker") counts out the stall count.
飞盘可以通过队友的传盘向任何方向前进。队员不允许带盘跑,持盘的人要在十秒钟内扔出飞盘,由防守者计时。
When a pass in not completed (e.g. out of bounds, drop, block, interception), the defense immediately takes possession of the disc and becomes the offense.
当传盘未完成时(例如出界、落地、阻断、拦截),防守方立即获得盘权成为进攻方。
Players not in the game may replace players in the game after a score and during an injury timeout.
No physical contact is allowed between players. Picks and screens are also prohibited. A foul occurs when contact is made.
队员之间不允许有身体接触。抢盘与卡位也被禁止。一旦身体接触就可触发犯规。
When a player initiates contact on another player a foul occurs. When a foul disrupts possession, the play resumes as if the possession was retained. If the player committing the foul disagrees with the foul call, the play is redone.
当一名队员开始接触另一名队员时,就会发生犯规。当犯规破坏盘权时,比赛继续进行,盘权被保留。如果犯规的队员不同意犯规,则要进行回盘。
Players are responsible for their own foul and line calls. Players resolve their own disputes.
Ultimate stresses sportsmanship and fair play. Competitive play is encouraged, but never at the expense of respect between players, adherence to the rules, and the basic joy of play.
Ultimate强调体育精神和公平竞争。鼓励竞技比赛,但绝不以牺牲队员之间的尊重、遵守规则和比赛的基本乐趣为代价。
The team in possession, usually referred to as 'O' for offence.
The open side is the lane that the thrower is forced to throw. If they are forced flick, then a cutter must cut on the open side, which is the right side when looking at the defender's end zone.
Open Side 是持盘人被迫扔盘的区域。如果他们被迫正手扔盘,那么cutter必须在开放区域切入,也就是看向防守队员得分区时的右侧。
The break side is the lane that the mark is blocking the thrower from, which would be the left lane when looking at the defender's end zone.
Break Side 是mark阻挡持盘人的区域,当看向防守者的得分区时,是左边的区域。
To make a cut as a cutter means to attempt to make yourself open to receive the disc from the thrower. A sprint, often after making a quick change of direction, in order to get free for an easy pass.
作为接盘人进行冲刺切入,意味着尝试让自己进入接盘状态以从持盘人那里接收飞盘。一次冲刺,通常是在快速改变方向,为了能轻松接盘。
The two main offensive positions in Ultimate are the handler and the cutter. The cutters job is to cut, juke, and get open for a handler to pass to them. The main job of the cutter is to catch at all costs, and then to return it to a handler and repeat. The cutter does not need to be good at throwing, but it is preferred that they can run, catch, and know basic Plays.
极限飞盘中的两个主要进攻位置是handler和cutter。 cutter是切入、旋转并打开让handler传给他们盘。 cutter的主要工作是不惜一切代价接住盘,然后将其返回给handler并重复。 cutter不需要擅长扔盘,但最好他们会跑,会接,并知道基本的玩法。
A player who is confident making throws and so often stays back when on 'O' rather than joining the stack.
一个有信心的扔盘手,所以在进攻时经常留在后面而不是加入Stack。
To clear means to return to a position on the field where you are out of the way of other players trying to cut.
Clear out 意味着返回到场上的一个位置,在该位置让你可以避开其他试图切入的队员。
Your dump option, or dump player, is the bailout option for a thrower who does not want to, or cannot, throw upfield. Dumps are typically handlers because they are expected to have better control of the disc than cutters.
Dump option/Dump player 是不想或不能向前场扔盘的扔盘人的救助选项。Dumps通常是handler,因为他们比接盘人更好地控制飞盘。
A pass across the field to look for options on the other side of the pitch.
To cut under means to cut at an angle towards the thrower in order to beat the defense and obtain the disc.
Under 是指以一定角度切入,向持盘人移动,摆脱防守并获得飞盘。
To cut deep means to cut away from the thrower so that they can throw a huck in order to move the disc further upfield.
Deep 是指远离持盘人,以便他们可以掷出一个huck,以便将飞盘移到更远的前场。
Take your time with the disc. That means handlers can walk to pick up a dead disc rather than rushing to pick it up and throw up.
Chilly 这意味着发盘手可以步行去捡起一个死盘,而不是急于捡起来扔掉。
To break the mark means that if the defender is forcing a flick, you pivot around them and throw a backhand. Most times, defenders are told not to let this happen to them because many offensive players can easily get open after that.
Break 打破近身防守人意味着如果防守者正在强迫正手扔盘,你可以左右切换,并进行反手扔盘。大多数时候,防守者不被允许让这种情况发生,因为很多进攻队员在那之后很容易打开局面。
An 'O' formation where all the receivers stand in a tightly packed line, or stack, waiting to make a cut into space.
一种进攻队形,即所有接盘手站成一条紧密的线,或一堆,等待着在中间区域中切入接盘。
Like a kickoff in rugby league or American football, the throw down to the other team which starts play after each point.
就像美式足球的开球一样,在每分之后一对向另一支队扔盘,以开始比赛。
The team without the disc, usually referred to as 'D' for defence.
The most common defensive tactic in Ultimate. Simply put, you are assigned one man (or woman) on the other team. It is up to you to guard that man at all costs, never leave him or let him out of your reach. If your assigned player catches a point it is almost entirely your fault, so guard hard my friend.
极限飞盘中最常见的防守策略。简单地说,你被分配去盯另一个团队中的一个(男或女)。你有责任不惜一切代价防守那个人,永远不要离开他或让他远离你。如果你指定的队员得到一分,这几乎完全是你的错,所以要小心。
When you are told to cover a specific person they are your mark. Stay on your mark at all costs. It is your job to not let that single person get the disc, and to escape them when you are trying to get open for the disc.
当你要近身防守一个特定的人时,他们就是你的Mark,无论如何都要坚守阵地。你的工作就是不要让那个人拿到飞盘,并在你试图接盘时摆脱他们。
When marking a player with the disc the defensive player will stand towards one side of the handler to prevent them making a throw there, thereby forcing them to throw on the other side. Throwers can be 'forced' to use backhand or forehand passes, for example. Markers can also use a 'straight up' or 'flat' force to try and stop all down field throws.
当近身防守持盘人时,防守队员将站在持盘人的一侧,以防止他们在那一侧出盘,从而迫使他们在另一侧出盘。例如,"被迫"持盘人使用反手或正手传盘。Marker也可以使用"straight up"或"flat"来尝试阻止所有的前场传盘。
The defensive player guarding the offensive player who is furthest away from the disc (in the back of the stack) is the last back. When the sideline tells the defensive player that they are last back, that means that they have to pay extra close attention to the defensive they are on.
Last back 是防守距离飞盘最远的进攻队员的防守队员(在Stack的最后面)。当边线告诉防守队员他们是最后时,这意味着他们必须格外注意他们的防守。
This term is typically used so that defenders do not get confused as to how to force a thrower if they are left-handed. Forcing home means the mark causes the thrower to throw on the defense's home side of the field.
使用这个术语,以便防守者不会对左撇子如何强迫持盘人感到困惑。Forcing home意味着近身防守人使持盘人向防守方的主场扔盘。
This term is typically used so that defenders do not get confused as to how to force a thrower if they are left-handed. Forcing away means the mark causes the thrower to throw on the opponent's away side of the field.
使用这个术语,这样防守者就不会对如何强迫左撇子的盘手感到困惑。Forcing away意味着近身防守人使持盘人向对手的外场扔盘。
Forcing flick means to cause the thrower to throw a flick by blocking their backhand throw. Most times this refers to a right-handed flick so even when marking a left-handed thrower, you continue to stand facing their left hip.
强制正手扔盘是指通过阻止他们的反手扔盘来使持盘人进行正手扔盘。大多数情况下,这指的是右手正手扔盘,因此即使在盯防左手持盘人时,您也要继续面向他们的左臀部站立。
Forcing backhand means to cause the thrower to throw a backhand which means facing their right hip.
强制反手意味着让持盘人反手扔盘,这意味着面对他们的右臀部。
To block the around throw by a thrower, a mark must stand facing the opponent's hips and put their body perpendicular so that the mark is practically facing the sideline.
要阻止持盘人的左右出盘,近身防守人必须面向对手的臀部站立,并使他们的身体垂直,使Mark几乎面向边线。
To block the inside throw by a thrower, a mark must position their bodies more in the front of the thrower so that they are unable to get an inside throw off.
要阻挡内线出盘者的内线出盘,近身防守人必须将他们的身体更多地置于出盘者的前方,以便他们无法在内线出盘。
When a thrower is winding up to huck the disc, a mark can put their hands up high and try to get their body in the way so that that throw does not go off.
当一个持盘人准备开始huck(大力出盘)时,近身防守人可以将他们的手高高举起并用他们的身体挡住出盘人的身体,让他们无法扔出huck。
This is when two defenders exchange the offensive players that they are marking.
Defensive strategy where defensive players mark zones or areas of the pitch trying to prevent space to pass into. Usually has a 'wall' or a 'cup' formation.
联防,防守队员近身防守场上区域以防止对方穿盘的防守策略。通常有"wall"或"cup"的队形。
A zone defense consists of players guarding a particular portion of the field rather than a specific player. Calling "FIRE!" means to switch to man-defense.
区域联防是防守某一特定的区域,而不是防守特定的队员。Fire意思是改用防人策略。
Since this sport does not have referees and observers on lower level tournaments, all players have the obligation to make their own calls if something goes wrong. Here are some of the most important calls to remember.
由于这项运动在一般比赛中没有裁判和观察员,因此如果出现问题,所有队员都有义务自行判断。以下是一些需要记住的最重要的事项。
A pick is when you are defending a player but another player, on the opposing team or your own, gets in the way of being able to make a play on the disc. Once a pick is called, all players must stop where they are until the problem is resolved. An intentional or unintentional block where a player gets between you and the player you are covering.
Pick 是当你在防守一名队员时,另一名队员在对方队或你自己的队中,阻挡了被防守人接盘。一旦选择了pick,所有玩家都必须停在原地,直到问题得到解决。一名队员挡在你和被你防守的队员之间的有意或无意的阻挡。
A foul is when there is unnecessary contact by the opposing team that can obstruct the player's ability to obtain or throw the disc. Once a foul is called, all players must stop where they are until the problem is resolved.
Foul 是指对方队员进行了不必要的接触,可能会阻碍队员接盘或扔盘。一旦判定犯规,所有队员必须停在原地,直到问题得到解决。
A strip is when a player has grasped and stopped the rotation of the disc but another player hits the disc out of their hand, which is not allowed.
Strip 是指玩家已经抓住并停止了飞盘的旋转,但另一名玩家将飞盘从手中击出或抢走,这是不允许的。
An injury should be called if a player becomes hurt and cannot continue to play. Everyone must stop where they are and wait for that player to get off the field and for a substitute player to take their place.
Injury 如果队员受伤而无法继续比赛。每个人都必须停在原地,等待该队员下场并由替补队员取代他们的位置。
If the disc is thrown or ends up out of bounds, then that will be a turnover and defensive will become offensive and vice versa.
如果飞盘被抛出或最终出界,那么这将是一次失误,防守将变成进攻,反之亦然。
A violation which can be called when a receiver of a throw does not attempt to stop immediately or drags their planted foot before a throw. This means the disc must go back to where it was before the throw.
当接盘者在扔盘前没有立即停止或拖拽脚步时,可以被称为违例。这意味着接盘者必须回到之前的位置。
Sideline individuals and players on the field will shout "up" so that all defensive/offensive players will be aware that a disc is in the air and there is a chance to get on it.
场上的边线人员和队员会大喊"Up",以便所有防守队员都知道有一个飞盘在空中,并且有机会抓住它。
Once a player catches the disc they have a limited time in which to make a pass. This is called a stall count (indoors = 8 seconds, outdoors = 10 seconds). The stall count is called out by the player marking the opponent with the disc by saying "Stalling, 1, 2, 3…" at 1 second intervals. If the stall count reaches the limit before the disc is released then the marker shouts "Stall Out!" and the possession turns over.
一旦队员接住飞盘,他们就有在有限时间内传出飞盘。 这称为Stall Count(室内 = 8 秒,室外 = 10 秒)。防守队员每隔1秒说"Stalling, 1, 2, 3..." 来喊出计数。如果在扔出光盘之前计数达到限制,则标记会喊出"Stalling!" 和换方进攻。
To throw the disc from the left side of the body for right handed players (or from the right for left handed players). The motion is similar in some respects to the backhand in tennis. (Like the 'standard' throw that non-Ultimate players may be used to).
对于惯用右手的玩家来说,从身体的左侧扔出盘。 这个动作在某些方面类似于网球中的反手。(就像新手玩家习惯认为的投掷类似)。
To throw the disc from the right side of the body for right handed players (or from the left for left handed players). The motion is similar in some respects to the forehand in tennis.
用右手的玩家从身体的右侧投掷。这种动作在某些方面与网球中的正手动作相似。
High overhead throw; the disc flies upside down in a parabolic type path. The grip, release etc is similar to the forehand.
高手扔盘;盘在抛物线路径中倒转飞行。握盘、释放等动作与正手动作相似。
A type of catch where a player claps his/her hands on the top and bottom of the disc. This is the most secure way to catch but severely limits one's reach.
一种在用双手在飞盘的顶部和底部合起来的接盘方式。这是最安全的接盘方式,但严重限制了一个人的接盘范围。
Jumping to catch the disc.
A forehand throw that goes high in the air and curves left. The disc is vertical in flight.
At the beginning of each point each team assigns a role to each player for the next point.
在每个得分开始时,每个团队都为下一次得分的每个队员分配一个角色。
As a backhand, a throw to the right that curves left; as a forehand, a throw to the left that curves right. Also referred to as 'Inside-Out' or 'skip curve'.
反手出盘,把盘抛向右而向左弯曲;正手出盘,向左扔盘并向右弯曲。
As a backhand, a throw to the left that curves right; as a forehand, a throw to the right that curves left. Opposite of inside-out, here the disc flies outside-in.
反手出盘,把盘抛向左边而向右弯曲;正手出盘,向右抛盘而向左弯曲。与由内而外相反。
A throw which is hit to the ground by the marker immediately after being thrown.
A team has possession of the disc until there is a turnover. It is how it sounds, you turn it over to the other team. Players usually call it a "turn" for short. A turn is a result of a dropped or defended pass, a stall-out, an un-contested foul, or an out-of-bounds.
在出现失误之前,进攻方拥有飞盘,一旦犯规,就把盘权交给另一方团队。 玩家通常简称为"轮换"。 turn是由传盘或防守传盘、拖延、无争议的犯规或出界造成的。
When a player is forcing a particular way they are leaving a portion of the field completely open. It is your teams' job to guard that open portion of the field. Sometimes an opposing player will stray away from a team member and become completely open. A team member would yell "Strike!" for you to change your force for about 3 seconds, long enough for them to get back on their man. Make sure you return to your normal force right after.
当一名队员以特定方式防守时,他们会让场地的一部分完全开放,防守该领域是团队的工作。有时,对方队员会带走你的队成员并开放某个区域。一名队员会大喊"Strike" 让你改变你的防守区域大约3秒钟,足够长的时间让他们回到他们该盯的人身上,确保可以立即恢复正常防守。
Like in basketball you must establish a foot to twist and turn on when holding the disc. This is your pivot foot. If you are a righty your pivot should be your left foot and visa versa. Your pivot foot must stay planted on the ground until the disc leaves your hands. A lifted pivot foot will result in a travel.
就像在篮球中一样,你必须在握住飞盘时建立一只重心脚来扭转。 这是你的支撑脚。 如果你是右脚,你的支点应该是你的左脚,反之亦然。 您的中枢脚必须留在地面上,直到盘离开您的手。 抬起的支撑脚将导致走步。
An extremely fast moving frisbee with a lot of spin will be considered a "bullet." It is a pass that typically stays low to the ground and is mostly used to Thread the Needle in tight situations. The disc flies fast and perfectly straight similar to a bullet. In most cases, your hand will be hurting after catching or defending a bullet pass.
速度极快且飞快旋转的飞盘将被称为"子弹"。这是一个通常保持低到地面的传盘,主要用于在紧张的情况下。盘飞得很快,就像子弹一样笔直。在大多数情况下,您的手在接盘或防守后会疼。
Basically another word for a Bid. A layout is more when you are running and dive forward with two hands out sliding flat on your chest to catch or block the disc. A bid is a more broad term meaning ANY type of dive.
是Bid的另一种说法。 当您跑步并向前俯冲时,Layout更多是用两只手在胸前平行滑动以抓住或阻挡飞盘。bid是一个更广泛的术语,意味着任何类型的俯冲接盘。
An impressive (but failing) diving or jumping attempt to catch the disc. Often used in a positive way, eg. "Nice bid dude".
一次令人印象深刻(但失败)的俯冲或跳跃尝试抓住飞盘。 通常以积极的方式使用,例如。 "伙计,不错的Bid"。
One of the most epic things to ever happen in Ultimate Frisbee. It is the act of jumping so high to grab a disc that you literally jump over someone in the process. I found this video on YouTube which is the perfect example of a Leapfrog.
Ultimate Frisbee中最具史诗般的行为之一。 这是跳得非常之高以抓住飞盘的行为,甚至在此过程中实际上跳过了某人。
I'm Alex, a very atypical IT guy. I love learning language and cultures, taking part in networking events, meeting interesting people. It was fortunate that I met many amazing friends and learned a lot from them. They inspired me and made me realize something more meaningful for my life. So I started to establish an English community, "Post English Time"(PET), since June 2011. I hope more people benefit from it as what I experienced. My goal is to make it a trustworthy and interesting community that can help others. I used to work for IT/Internet companies for years. And now I'm focusing on running and growing PET, and devoting to create a platform which can get more interesting people involved. Hope one day, when you want more possibilities in your life, PET can be your top choice.
PET FLY Ultimate Club / PET FLY飞盘俱乐部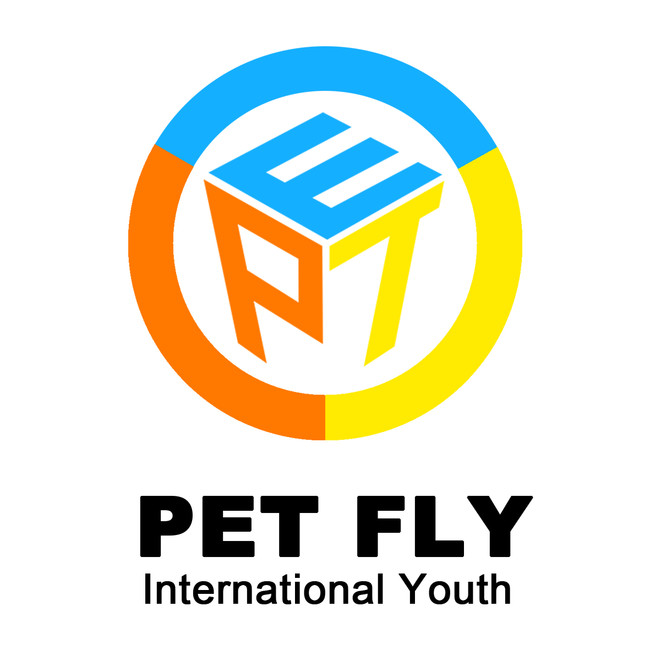 PET Fly is Ultimate lovers' team based on the PET, an international youth community. We come from different industries and have diversified backgrounds. We are an international Ultimate team in Beijing, with team members from five countries. We respect the "Spirit of the Game", eager to win the game, and enjoy the competitiveness, teamwork and perseverance that come with playing.
PET FLY是一个极限飞盘爱好者战队,基于国际青年社区PET。我们来自不同的行业,有着多元化的背景,现在是帝都非常国际化的飞盘战队,战队成员来自五个国家。我们尊重〞飞盘精神",渴望赢得比赛,享受比赛中带来的竞技性、团队合作和坚持不懈的精神。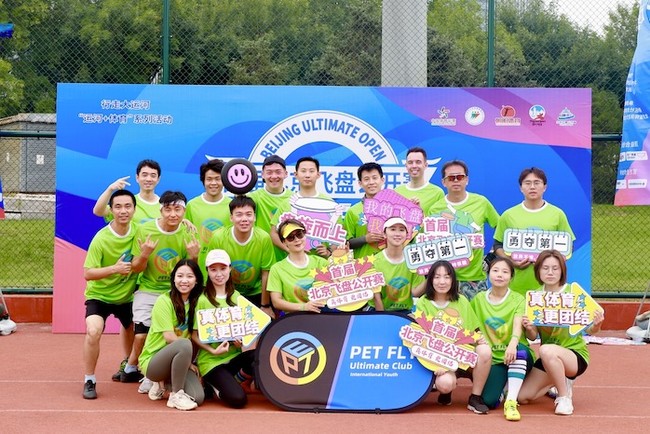 Ultimate Frisbee has become the most popular and fashionable team sport for young people. PET, an International Youth community, have organized frisbee activities for 7 years since we first try in August 2015, during this time many friends have tried and fallen in love with this sport. We formed our own Ultimate team, PET FLY, in August 2021, for Ultimate lovers in our community to better enjoy the fun of competition from this sport.
我们从2015年8月第一次在朝阳公园方舟码头体验极限飞盘到现在7年时间里已经组织了上百场飞盘活动,很多年轻朋友在这里尝试并喜欢上了这项运动,也不乏有朋友投身于飞盘事业,成立了自己的飞盘组织。为了让社区里的热爱飞盘的朋友们可以更好的体验竞技飞盘的乐趣,2021年8月我们成立了自己的飞盘战队PET FLY。我们的飞盘活动也从健身与社交向更专业,更有竞技性的比赛方向发展,在极限飞盘已经成为当下最酷最时尚的年轻人团队运动项目的潮流下,我们期待未来与更多飞盘爱好者们切磋交流,共同成长。
PostEnglishTime
, Speak English, make friends, be interested in people and connect the world
PET后英语时代
|
聊英语,交朋友,关注他人,连接世界
PET is a high-quality network of English-speaking international youth in Beijing. We organize various social activities and provide various community services. Our mission is to build a high-quality community of locals or expats who are interested in culture, language, technology, and humanities.
PET创立于2011年,从一个集语言学习,社交与知识分享的英文爱好者社区,现在逐渐发展成为一个更加包容与多元的国际青年社区。我们致力于成为国内外朋友都信赖的高质量社区,并为广大外语爱好者,外国友人提供线上线下不同类型的语言交流活动与不同主题的分享与社交活动,及其他社区服务。在这里有趣的灵魂将自由连接,平凡的生命也一样精彩。